Financial-related barriers affect medication access, impacting health outcomes and healthcare costs. According to a Henry J. Kaiser Family Foundation (KFF) Health Tracking Poll, 24% of respondents experience difficulty affording medications and 29% report a worsening of their condition from not taking medications as prescribed due to cost.
To help, as part of our consults, RxLive recommends a 90-day supply vs. 30-day whenever possible; switching to a generic, therapeutic or over-the-counter (OTC) alternative; referring to another pharmacy with a lower price for the same medication; identifying a copay assistance program or card; discontinuing a medication; or switching to an alternative dose, frequency or a combination medication.
Pharmacist-led financial interventions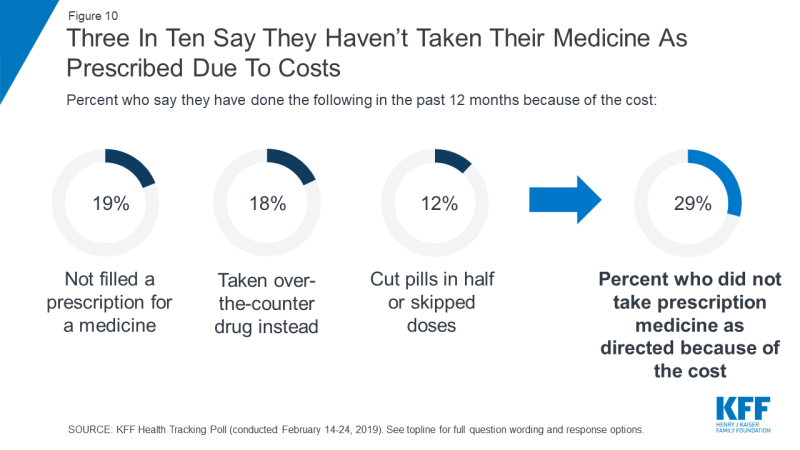 90-day medication supplies or generic, therapeutic or OTC alternatives are potentially viable cost-saving strategies. However, they may not be plausible if such alternative options don't exist (such as insurance plans that don't allow 90-day prescriptions for some medications). 
When brand-name meds are the only option available to the patient or if cost is a persistent concern, financial interventions such as referring to another pharmacy with a lower price for the same medication or identifying a copay assistance program may be other options.
Identification of financial barrier
Many brand-name prescription drugs are expensive and can be a potential cost barrier that can be addressed at various points of the prescription-filling process. Through direct patient questioning, pharmacists can identify before the prescription is finalized for pickup if the price of a brand medication is a barrier. They can proactively search for cost-saving alternatives or strategies to help ensure patient access to therapy. Other indications of financial barriers include variant fill-history patterns that suggest patient attempts to skip or halve doses to stretch their prescriptions, patient inquiries about medication costs or availability of coupons, or questions regarding equivalence of less-expensive generic or OTC products.
Refer to an alternative pharmacy offering the same med at a lower price
If other cost-saving strategies can't be used, pharmacists can transfer a prescription to another pharmacy that offer the same medication at a lower price. Medication pricing varies between pharmacies due to different pharmacy benefit managers (PBM) negotiating prices between drug manufacturers, pharmacies and insurance companies. In 2018, Consumer Reports showed significant price fluctuations for the same common medications at different pharmacies. In addition, larger retail pharmacy chains, membership-based stores and grocery store pharmacies may have in-store programs for those lacking insurance coverage, often providing significant discounts for commonly used medications. 
There are a number of searchable online pharmacy sites (such as GoodRx, AARP Pharmacy, SingleCare or a store chain's own pharmacy membership program) that provide listings of local pharmacies and their prescription prices, with some allowing consumers to self-report medication prices. These online resources can be used as time-saving tools to locate nearby pharmacies and identify their price points.
Transferring a prescription to a lower-cost pharmacy must be in line with a state's prescribing laws. Certain medications — such as schedule II-controlled substances or prescriptions lacking refills — can't be transferred; these require a pharmacist to inform the patient or call the prescriber to initiate a new prescription request to be sent to a different location. Additionally, schedule III, IV and V meds can be transferred only once despite any remaining refills above that. This is an opportunity for a pharmacist to explore with the patient whether transferring the prescription is optimal for their situation. 
Community pharmacist-led interventions that identify the same medication for a lower price at an alternative pharmacy opens patient access to medication therapy, improves compliance by reducing a cost barrier, and strengthens the pharmacist-patient relationship while building trust through wiliness to transfer businesses. so patient health can be met and financial barriers overcome.  
Copay assistance
Copayment offsets in the form of coupons, vouchers and discount cards are options to reduce patient out-of-pocket spending by providing instant rebates on brand-name prescriptions. Some copay assistance programs are provided through pharmaceutical manufacturers; they can be accessed via medication websites or pharmaceutical marketers, and some programs also can be accessed through insurance plans. 
Discount programs or cards not offered by manufacturers are particularly helpful for persons on Medicare or Medicaid, who don't qualify for manufacturer-support programs because of the federal anti-kickback law making it illegal to do so. However, some programs not offered by drug manufacturers may be available for seniors; pharmacists or your insurance company should know. But for non-Medicare/Medicaid patients or when a generic or therapeutic alternative doesn't exist, a wide range of programs remain that can be used solely or in conjunction with insurance to offset the impact of high copays or deductibles. These programs can promote patient autonomy by enabling medication choice, rather than forcing patients to choose based solely on affordability.
Copayment assistance cards are immediate mechanisms to reduce cost burden on brand medications. However, they aren't an indefinite cost-saving option because they may come with use limitations or other stipulations. In addition, some insurance companies no longer apply the value of copayment assistance cards or coupons towards consumers' deductibles or maximum out-of-pocket contributions with copay accumulators; this may influence their use vs. other cost-saving strategies. The immediate and long-term implications of such discounts can spark a dialogue between pharmacists and patients with chronic illnesses to consider multiple cost-saving approaches for extended medication therapy.
Like RxLive clinical pharmacists, retail pharmacists should be familiar with the process and serve as an information source for those seeking ways to lower their immediate costs. (However, note that retail pharmacists are charged with filling what's typically a large number of prescriptions each day, so may not have much time for in-depth patient consultations.) 
According to a recent study published in the Journal of Managed Care and Specialty Pharmacy (JMCP), prescription coupons and discount cards were viewed favorably by community pharmacists as a method to reduce costs and open access to medication therapy to patients not otherwise able to afford medications.
We remind patients that not all pharmacies are in-network with discount card companies, discounts can't be used in conjunction with insurance, and patient information may be collected and stored when the patient enrolls in the discount program. 
Summary
Experienced pharmacists — well-familiar with drug pricing and who have access to copay assistance programs or coupons — can reduce patient financial barriers and increase access to medications by referring to another pharmacy with a lower price or identifying a prescription-assistance program. Whatever turns out to be the most-effective solution for each patient, pharmacist-led financial interventions foster better adherence to a medication regime and can reduce morbidity and mortality, along with costs for the patient and, more broadly, for the nation's health system.
Resources
Pharmacist-led financial interventions (part 1)
Shop Around for Lower Drug Prices. Consumer Reports 
KFF Health Tracking Poll — February 2019: Prescription Drugs. KFF
Pharmacists' Experiences, Perceptions, and Knowledge of Direct-to-Consumer Prescription Coupons. JMCPTitle 21 Code of Federal Regulations. U.S. Dept. of Justice, Drug Enforcement Administration (DEA)