Streamline transitions of care with
population health pharmacy
Care transitions are difficult in the best of times. In an era of unprecedented provider burnout, staffing shortages, and multiple ongoing public health crises, they can feel nearly impossible to manage. A population health pharmacy strategy can help streamline care transitions and prevent readmissions at scale.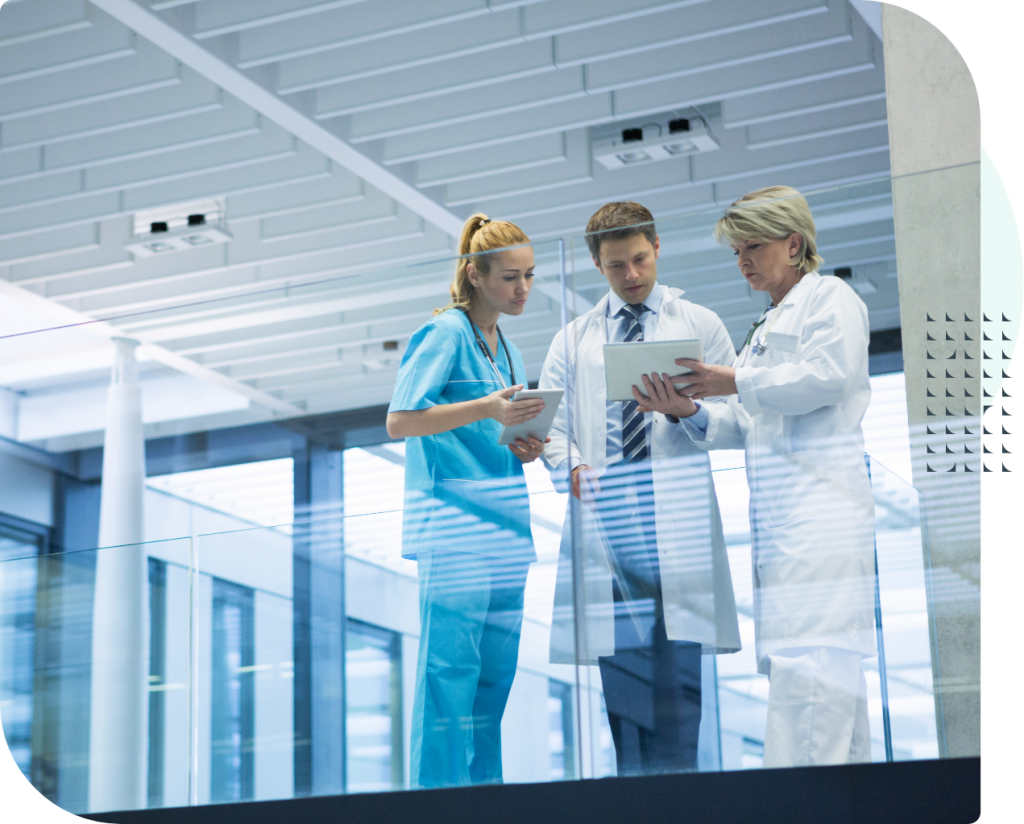 Could your hospital benefit from…
Empower your clinical pharmacists to serve more patients & decrease physician workload
RxLive is a comprehensive population health pharmacy solution. It improves transitions of care by empowering clinical pharmacists with a variety of tech-powered tools that make it possible to deliver personalized care at scale. Specifically: the platform integrates data from multiple sources, then uses an algorithm to identify potentially problematic interactions with patients' existing medications and new prescriptions. It also identifies opportunities to reduce overall medication costs and makes this information easily accessible to your in-house pharmacists, who can guide patients as part of discharge conversations. 
Crucially, RxLive also offers a fractional network of pharmacists available for telehealth consultations. These professionals can deliver the same information to patients who aren't able to consult with an in-house provider before they leave. Finally, RxLive ensures that everything is documented and communicated with primary care practitioners. The result: better adherence, fewer ADEs, and fewer readmissions.
Reduction in hospital
readmissions
Result of RxLive's integrated discharge programs
Average annual drug cost savings per patient
Result of RxLive's MTM function
Increase in fee-for-service revenue per consult
Benefit of RxLive's Reimbursement
& Engagement Strategy
Although RxLive tailors workflows to suit the needs of each organization, our standard procedure for integrating our comprehensive services throughout a hospital network includes: 
Patient Selection
Data-powered AI identifies the patients most at risk of adverse events following discharge.
Preparation
Your clinical pharmacists or those in RxLive's network develop a comprehensive medication review (CMR) plan using patients' EHR data, SureScripts records, discharge summaries, and other relevant clinical data sources.
Consultation
During the consult (which happens either via phone or video chat), the pharmacist engages the patient to gather additional contextual data around their medications, supplements, and other substance use. The pharmacist also reviews possible drug interactions, de-prescribing opportunities, and cost-saving opportunities. A follow-up summary is sent directly to the patient and uploaded to the provider's EHR. The provider can then review and make any necessary changes to the patient's medication regimen.
Revenue Optimization
Whether your hospital system operates under a collaborative practice arrangement, fee for service, HCC risk adjustment, Medicare Part D, direct to employer or direct to consumer, RxLive's technology supports the monetization of the clinical pharmacy functions in a way never seen before. We allow you to elevate your existing clinical pharmacy business models to an entirely new level.
Value Proposition and Expansion
RxLive lets hospitals, for the first time, tie the impact of each pharmacist interaction with the downstream KPIs that matter, including readmission rates, adherence, quality performance, and ultimately total cost of care. We arm CPOs with the data they need to expand their teams and contribute directly to their organizations' value-based revenue growth strategies.
Redefine your healthcare practice by
offering our value-based pharmacy.
Learn how partnering with RxLive can help you achieve tangible results.