Oh, my aching (neck, arm, fill in the blank). The list goes on and on. From genetics to aging and injuries of all kinds, most of us suffer from acute pain at one time or another. It simply ain't no fun.
Unfortunately, patients often can't, or at least shouldn't, turn to nonsteroidal anti-inflammatory drugs (NSAIDs) including naproxen sodium (such as Aleve), ibuprofen (Advil or Motrin), or aspirin, due to the potential cardiac, gastric, kidney, drug-interaction and other issues they can cause.
Acute pain is a common condition leading to healthcare visits, with musculoskeletal injuries accounting for 4 out of 5 injuries treated in physicians' offices. Acute musculoskeletal pain occurs from injures such as soft-tissue injuries, strains and sprains, whiplash, nonsurgical fractures and more.

The American College of Physicians (ACP) and the American Academy of Family Physicians (AAFP) developed clinical guidelines as a framework for physician treatment of acute non-low back pain, musculoskeletal injuries in adults based on systemic evidence reviews. The 2020 guidelines were published in Annals of Internal Medicine.
Acute pain
Acute non-low back pain is a common medical problem that can occur secondary to an injury. Clinical characteristics of acute pain include pain described as dull or sharp, constant or sudden, throbbing or stabbing that lasts fewer than four weeks.
Treatment includes pharmacologic and nonpharmacologic interventions. It's been reported that one fifth of outpatients in the U.S. have been prescribed an opioid for acute musculoskeletal injuries in the past…a practice not recommended by current guidelines.
Acute non-low back pain can manifest into chronic pain — pain lasting over 12 weeks — without proper treatment or care.
Clinical guidelines
The ACP/AAFP clinical guidelines, "Nonpharmacological and Pharmacological Management of Acute Pain from Non-Low Back, Musculoskeletal Injuries in Adults," provide treatment guidance to be used with clinical judgement. The guidelines were formed by examining systemic evidence reviews, including a network meta-analysis on treatment of acute musculoskeletal injuries and a systemic review of prolonged opioid-use predictors.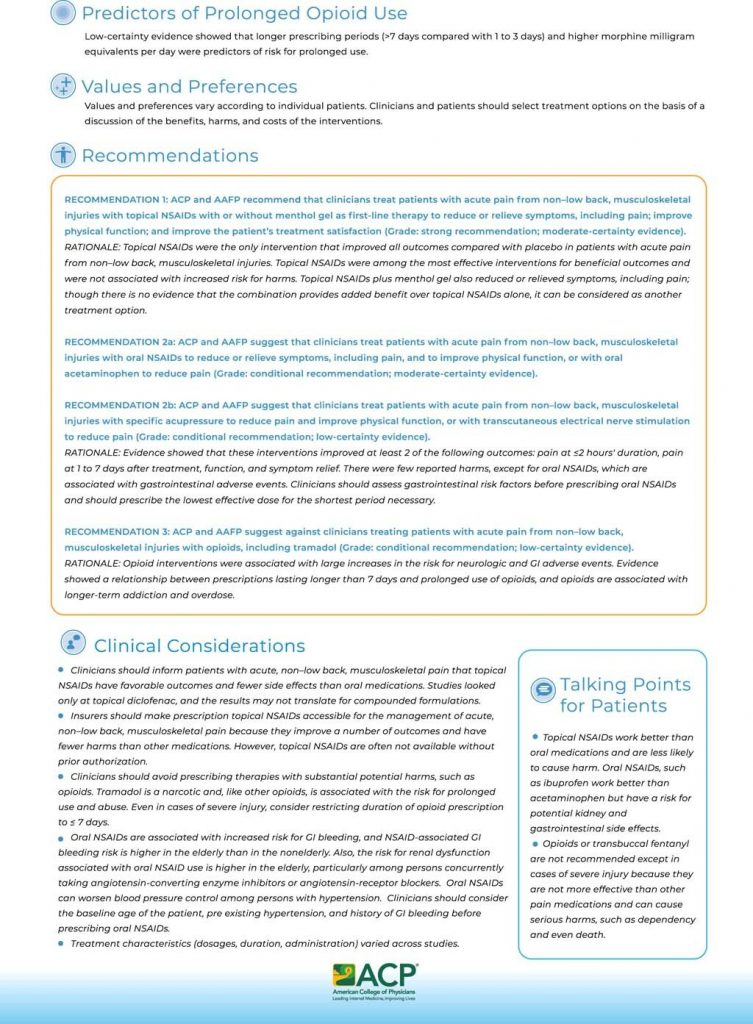 Noninvasive low-back pain treatment is not addressed in these guidelines, as ACP developed a separate guideline for this category of acute back pain.
Pharmacological recommendations for acute non-low back pain
Recommendation 1: Topical NSAIDs with or without menthol gel
Topical NSAIDs with or without menthol gel is the first-line treatment recommendation in current guidelines for acute non-low back pain. All patient outcomes — pain relief or reduction, physical function improvement, or patient treatment satisfaction — were achieved with topical nonsteroidal anti-inflammatory drugs (NSAIDs). Adding topical menthol gel to topical NSAIDs was found to improve pain control, but lacked evidence that the combination therapy was superior to topical NSAIDs alone. Topical NSAIDs were found to reduce symptoms of pain in less than two hours after application.
Compounding pharmacies — totaling about 7,500, or only 13% of the nation's 56,000 pharmacies — are able to compound a variety of topical NSAIDs in varying strengths. However, the studies examined by ACP and AAFP did not include compounded NSAIDs. ACP notes as a clinical consideration that lack of compounded topical NSAIDs in studies may limit applying study results to such compounded topical formulations.
Recommendation 2a: Oral NSAIDs or acetaminophen
Treatment with oral NSAIDs or oral acetaminophen was observed in studies to help reduce pain in under two hours and improved physical function. However, oral therapy with these agents is not considered first-line due to the observed effectiveness of topical NSAIDs and the risk of gastrointestinal (GI) side effects with oral NSAIDs.
Clinicians should consider a patient's age and physical characteristics when prescribing oral NSAIDs, due to side effects such as GI bleeding and interactions with other concurrently used medications.
Recommendation 2b: Specific acupressure
A non-pharmacological recommendation is treatment with specific acupressure or with transcutaneous electrical nerve stimulation. Studies showed that pain relief and improved physical function was achieved in some patients for 1 to 7 days.
Recommendation 3: Opioid avoidance
ACP/AAFP guidelines recommend against treatment with opioids. Studies showed mixed results for pain reduction with opioids. Results also revealed increased risk for gastrointestinal and neurological affects.
Opioid treatment has well-documented risks including prolonged use and abuse. The guidelines do not recommend these agents for acute pain treatment when pharmacological options such as NSAID therapy are shown to be effective. The American College of Physicians further recommends in Supplement 2 of the guidelines that the duration of opioid prescriptions in severe injury should be considered to be restricted to 7 days or less.
Pharmacists and dealing with acute pain
Though the ACP/AAFP clinical guidelines focus on aiding physicians for optimal treatment prescribing, pharmacists can utilize the guidelines for patient counseling and collaboration with other practitioners. Pharmacists can be an information source for patients suffering from pain who have not yet sought medical help, or provide recommendations for over-the-counter (OTC) medications when appropriate.
As consistently available providers in the community, pharmacists can aid in acute pain relief through drug education, physician referral, and support that help patients make informed choices until — and if — their situation worsens and they feel the need to reach out to their physician.
Resources
Management of Acute Pain From Non-Low Back, Musculoskeletal Injuries. Annals of Internal Medicine
Non-Pharmacological and Pharmacological Management of Acute Pain from Non-Low Back, Musculoskeletal Injuries in Adults. Annals of Internal Medicine
Topical NSAIDs for Acute Pain: A Meta-analysis. BMC Family Practice