From sports stars or actors to someone in our own family or circle of friends, every day we see stories of people who have died in the U.S. from a drug overdose. It's no wonder, since nearly 50,000 people die each year of opioid-involved overdoses alone, according to the Centers for Disease Control and Prevention (CDC).
The misuse of and addiction to opioids — including prescription and illicit opioids such as oxycodone, hydrocodone, morphine, fentanyl, morphine, codeine and heroin — contribute to the overall public health crisis. Consequences include deaths from overdose, newborns exhibiting withdrawal symptoms, spread of infectious diseases from injectable opioid misuse, and social and economic burdens.
The constant increase of these deaths caused the Department of Health and Human Services (HHS) to declare opioid misuse a public health emergency in 2017. The CDC noted that in 2019, opioid-related deaths accounted for 70% of the 70,630 total U.S. drug overdose deaths. And the opioid crisis continues to escalate, as overdose deaths rose 29.4% in 2020; opioids primarily drove the increase.
According to the National Institute on Drug Abuse, prescription opioid misuse creates an annual economic burden of approximately $78.5 billion a year, including the costs of healthcare, lost productivity, addiction treatment, and criminal justice involvement.
Naloxone for emergency use
When prescribed by a physician and taken for a short time, opioids for pain relief are generally safe. However, they can be addictive and can often lead to misuse. Since they activate reward centers in the brain, a compulsive urge to continue use can exist beyond medical necessity. Some risk factors include duration of time taking opioids; tolerance development and dose increases; and genetic, psychological and environmental factors.
Naloxone (common brand names are Narcan and Evzio) is an emergency-use medication that can reverse an opioid overdose. As a competitive opioid antagonist, naloxone blocks the effects of opioids by binding to opioid receptors. It's available as a nasal spray or an injection by subcutaneous, intramuscular or intravenous route. The nasal spray, auto-injector and intramuscular injections are easy to use for non-medical professionals and are the dosage forms qualified pharmacists are mostly authorized to prescribe or dispense according to state laws.
Pharmacists are recognized in practice and literature as powerful resources in the healthcare community that can address the opioid crisis as they are highly accessible, possess unique medication knowledge, utilize prescription drug monitoring programs (PDMP) to help prevent opioid diversion or inappropriate prescribing, and can monitor for signs of misuse. Pharmacists are also extremely capable of educating, counseling, connecting patients with community resources, and can prescribe naloxone in many states. Recognizing pharmacists as valuable resources to help combat the opioid crisis, states have implemented policy via statewide protocols and standing orders for pharmacists to prescribe or dispense naloxone.
State protocols regulate naxolone prescription conditions and accessibility
Since 2017, all 50 states and the District of Columbia have passed laws increasing public access to naloxone through statewide protocols or standing orders. Statewide protocols give pharmacists independent prescribing autonomy or the ability to dispense. Standing orders allow pharmacists to dispense naloxone secondary to a blanket authorization from a state health officer. Tennessee, a state reporting three or more drug overdoses per day, has issued a statewide opioid antagonist collaborative practice agreement (CPA) executed by the chief medical officer. Some states such as Iowa have dual mechanisms to increase naloxone access, implementing both statewide protocols and standing orders. Other states have enacted laws or standing orders allowing pharmacists to dispense naloxone without a prescription under certain conditions; among these states are South Carolina, Arizona and Nebraska. Nebraska has both a law allowing pharmacists to dispense naloxone without a prescription and a statewide standing order for prescription dispensing pursuant to the order.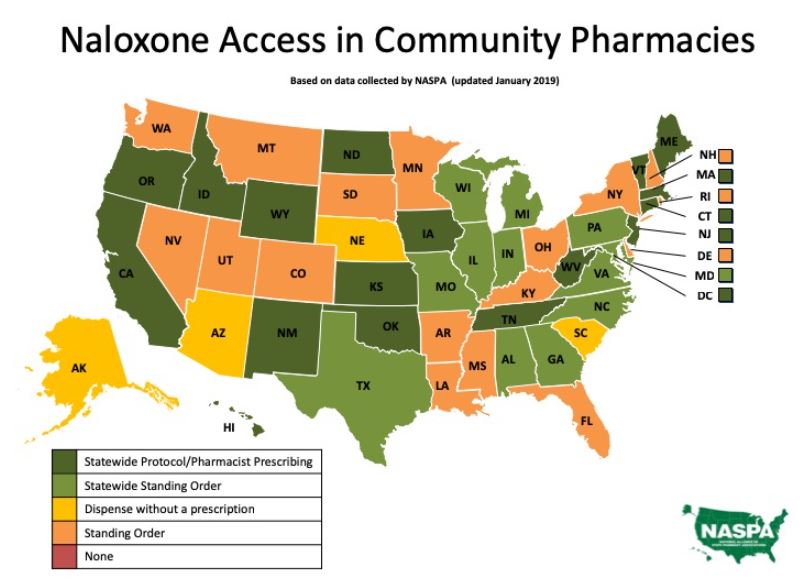 Statewide protocols have several similarities between states. Most protocols allow pharmacist prescribing or dispensing of intranasal or intramuscular naloxone. They contain medication instructions and procedures, plus have requirements for counseling, indications for dispensing, precautions and record-keeping.
Differences between statewide protocols include variances in:
Naloxone dosage forms
Pharmacist education requirements
Continuing education requirements
Reporting
Patient age restrictions and eligibility criteria
Expanding pharmacist prescribing authority shows positive impact
The states' strategy to increase naloxone access through pharmacists shows a promising impact. The positive role of pharmacists in innovative programs and practices to combat the opioid crisis is reported in the literature; a large national study published in Addiction Behavior reports that there was a 14% decrease in overdose deaths in states that enacted laws increasing naloxone access.
Prescribing trends show improvement since opioid risks were publicized and misuse became termed a national epidemic. The CDC reports that naloxone prescriptions doubled in a recently examined one-year timeframe, while prescriptions for high-dose opioids reduced 21% during the same period.
However, more progress needs to be made as evidenced by CDC reporting that still only 1 in 70 high-dose opioid prescriptions dispensed were co-prescribed with naloxone, and rural counties have a significantly lower naloxone dispensing rate than metropolitan counties. Additionally, the number of drug overdoses accelerated during the COVID-19 pandemic. According to the CDC, deaths from opioid overdose in 2020 rose from the previous year to 69,710.
Increasing statewide protocols with pharmacist prescriptive authority, as opposed to standing orders that only permit dispensing, is a strategy to further address the opioid crisis as evidenced by a nationally representative data analysis published in Drug and Alcohol Dependence. Researchers reported that there was a 53% increase in naloxone dispensing in states that allowed pharmacist prescribed naloxone compared to states that did not. Their results suggest that pharmacist prescribing can increase accessibility and availability of naloxone over dispensing permissions alone.
Pharmacists improve naloxone access for public health
Pharmacists are uniquely positioned to support public health initiatives. Pharmacists' prescriptive authority by statewide protocol has been shown to increase the number of naloxone prescriptions, contributing to a reduction in overdose deaths in states that have enacted naloxone access laws. Pharmacists play a critical role in the opioid crisis through their accessibility, expert drug knowledge, and proven capabilities as members of healthcare teams. To learn more, contact us.
Resources
Effectiveness and Implementability of State-level Naloxone Access Policies, Journal of Drug Policy
Naloxone Access: Summary of State Laws (PDF), Legislative Analysis and Public Policy Association (LAPPA)
Pharmacists: On the Front Lines — Addressing Prescription Opioid Abuse and Overdose (PDF), CDC