According to the American Heart Association (AHA), at least 2.7 million Americans are living with atrial fibrillation (AF). Unfortunately, even when untreated, AF doubles the risk of heart-related deaths and is associated with a 5-fold increased risk for stroke.
Many patients don't realize the severity of Afib, nor sometimes even know they suffer from it. That's why in our consults, RxLive clinical pharmacists ask patients about their health conditions and symptoms, including AF. This helps ensure they understand the severity of their condition(s) and receive the right treatment, following established clinical practice guidelines.
Evaluation of thromboembolic risk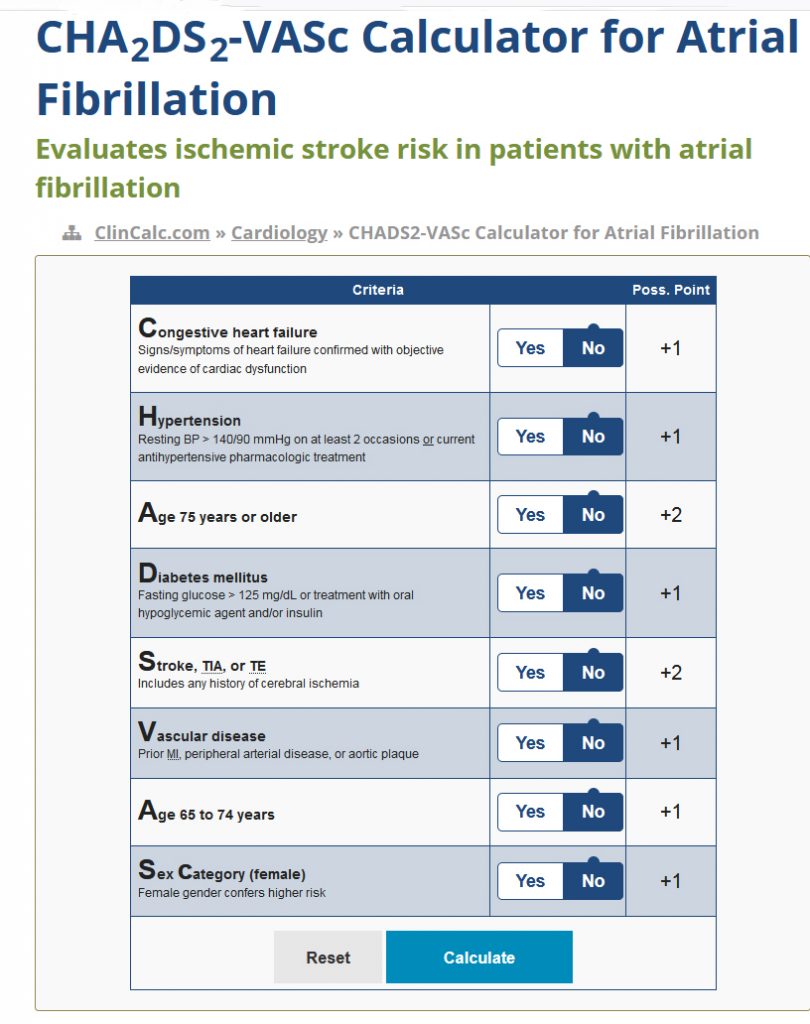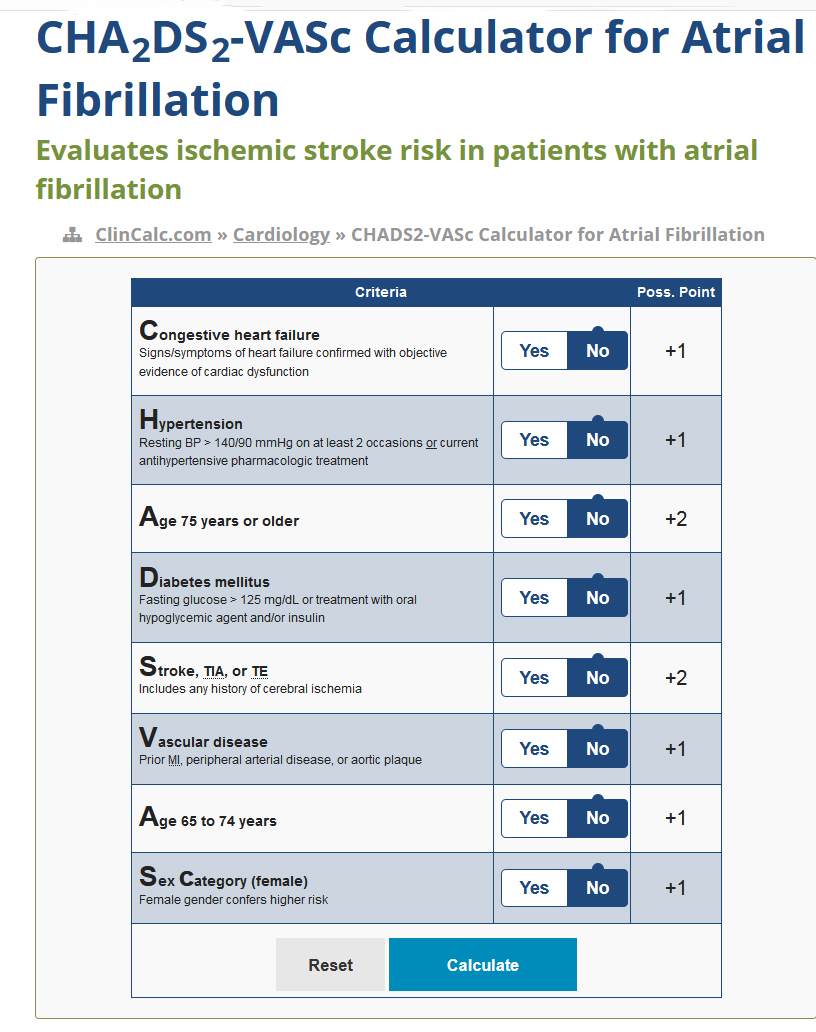 The CHA2DS2-VASc scoring system is more precisely predictive of stroke risk for patients with nonvalvular AF compared with the older CHADS2 score. CHA2DS2-VASc stands for Congestive heart failure, Hypertension, Age (>65 = 1 point, >75 = 2 points), Diabetes, previous Stroke/transient ischemic attack (2 points). VASc is short for vascular disease (peripheral arterial disease, previous myocardial infarction, aortic atheroma). Sex category (such as female) is also included in this scoring system. 
According to the 2020 European Society of Cardiology (ESC) updated guidelines, CHA2DS2-VASc should continue to be used as the recommended calculator to assess stroke risk. The guidelines state this score should be used to identify patients at "low risk" (CHA2DS2-VASc score = 0 in men or 1 in women), who should not be offered antithrombotic therapy. 
Antiplatelet therapy alone isn't recommended for stroke prevention in AF (Class III). For stroke prevention in AF patients with CHA2DS2-VASc ≥2 in men or ≥3 in women, oral anticoagulation (OAC) is recommended. OAC should also be considered in patients with a CHA2DS2-VASc score of 1 in men or 2 in women, with treatment individualized based on net clinical benefit with patient values/preferences. Non-vitamin K antagonist oral anticoagulants (NOACs) are recommended over vitamin K antagonists for NOAC-eligible patients.
An easy-to-use CHA2DS2-VASc calculator is pictured at right and can be used live to calculate the relative risk of ischemic stroke in an AF patient on this webpage. 
Assessment of bleeding risk
Another calculator that is useful when speaking with patients with AF is the HAS-BLED score (Hypertension, Abnormal renal/liver function, Stroke, Bleeding history or predisposition, Labile international normalized ratio, Elderly >65 years, Drugs/alcohol concomitantly). This score estimates the risk of major bleeding for patients on anticoagulation to assess the risk-benefit ratio in AF care. For patients found to be at increased risk for bleeding, modifiable risk factors should be addressed and the patient should have more frequent clinical follow-up. 
Rate and rhythm control of AF
Rate control is usually enough to reduce symptoms related to AF. However, rhythm control with cardioversion, antiarrhythmic drugs (AADs) and/or catheter ablation can also be used to reduce AF-related symptoms and improve quality of life. 
When considering whether or not to start long-term AAD therapy, think about the following:
Possible adverse drug reactions
Particularly drug-induced proarrhythmia or extracardiac adverse effects
Patient preferences
For the maintenance of sinus rhythm as well as the reduction of symptoms, catheter ablation is considered a superior alternative to AAD therapy. Catheter ablation reverses left ventricular dysfunction in most patients with AF and tachycardia-induced cardiomyopathy. However, it hasn't been shown to reduce total mortality or lower the risk of stroke in patients with AF who have a normal left ventricular ejection fraction.
Weight loss — in addition to risk factor modification and avoidance of AF triggers — is recommended to improve rhythm control in patients who are overweight or obese.
Recommendations for AF patients undergoing PCI
For patients with AF who are undergoing percutaneous coronary intervention (PCI) for acute coronary syndrome, early discontinuation of aspirin therapy and initiation of dual antithrombotic therapy with an oral anticoagulant and a P2Y12 inhibitor are recommended.
Management of atrial high-rate episodes
Patients with atrial high-rate episodes (AHREs) require regular monitoring to detect if there's a change in their risk of thromboembolic event or a progression to clinical AF. For patients who have longer AHREs (especially >24 hours), oral anticoagulant therapy is a reasonable option. 
The full set of 2020 guidelines for management of atrial fibrillation released by ESC are available on this webpage. 
Summary
As noted, many patients simply don't understand the severity and very real dangers that living with AF can bring. That's why the RxLive clinical pharmacist team keeps up-to-date on these guidelines and use them to consult with patients. In this way (and many other ways), we work to embody one of our core values: empowerment. Patients better understanding their conditions is the first step in helping them take better charge of their health, with the help of their clinicians.
Resources
VA Analysis Finds Significant Benefit for Statins in Veterans 75 and Older. U.S. Medicine, 2020
U.S. Preventive Services Task Force (multiple resources)