It's very common for RxLive clinical pharmacists to consult with patients who have asthma or COPD. There are many types of inhalers on the market, with a variety of dosing considerations and costs, so this blog will provide a quick overview of available inhaler therapies, costs and links to pertinent resources for further information.
Understand available inhalers on the market
Pharmacist's Letter has a useful chart that provides inhaled corticosteroid dose comparisons based on clinical trials in asthma without a spacer. Below is a preview of the chart; for those with a subscription to the publication, the full chart can be found at ​Inhaled Corticosteroid Dose Comparison in Asthma.
Also, one of my favorite quick reference guides is the ​Asthma Care Quick Reference​ guideline from the National Asthma Education and Prevention Program, which also has a few tables with relative strengths and role in treatment.
Provide asthma inhaler cost comparison to patients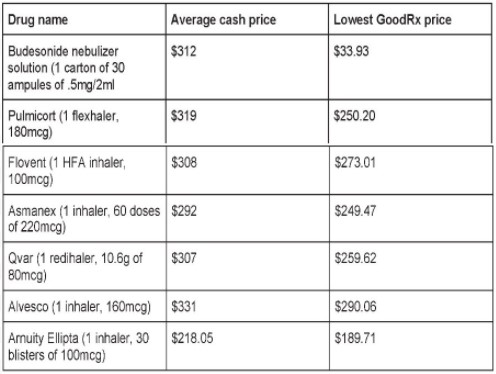 It's no secret that inhalers are expensive. Above is a chart to help you make a quick cost comparison for inhaled corticosteroids regardless of insurance coverage — which of course should always be evaluated.
Costs for inhaled corticosteroid and long-acting beta-agonist combinations can be found in the table immediately below at right.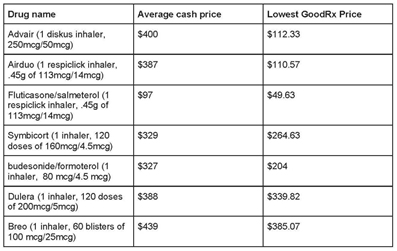 Even though GoodRx or a similar coupon or discount program may seem like the best option for a patient, it may not always be. I wrote a blog post explaining when GoodRx does and does not make sense, it's not as straightforward as it seems.
If a patient cannot afford their inhaler, generics are always a good option. Cash prices for generics include:
Levalbuterol and fluticasone/salmeterol — Under $100 per inhaler
Generic Ventolin — Around $30 an inhaler
Budesonide — An average of $176 per inhaler
For patients struggling to afford their medications, ​NeedyMeds​ is a useful site to check out cost-saving tools and programs. Also, our pharmacists have access to application forms for many patient savings programs which we can share with them during our private consults.
Specify inhaler options for patients with COPD
Pharmacist's Letter also has a chart that includes inhalation devices and nebulizers available for the treatment of COPD, dosing frequency and cost. As with the chart with asthma inhalers, it's too large to include in this blog, but below is a preview; if you have a subscription, the full chart can be found at the link at the beginning of this paragraph.
Also, ​here's ​a link to the Global Initiative for Chronic Obstructive Lung Disease (GOLD) 2020 Pocket Guide. It covers more than just the medication guidelines, but you can skip to page 14 to review the COPD therapies available.
Current generic availability

As noted, the cost of inhalers can sometimes be cost-prohibitive for patients. Above are some suggested generics that could replace a brand-name drug.
Partner with a pharmacy team to personalize your patients's inhaler needs
RxLive brings practices value by staying up-to-date on all of the different inhaler therapy options and helping patients understand which option is best for them. Please contact us here or at 1-866-234-4974 at any time to refer appropriate patients or so we can answer your questions.