Every year, the American Association of Clinical Endocrinologists (AACE) and the American College of Endocrinology (ACE) update their clinical practice guidelines for the diagnosis and treatment of postmenopausal osteoporosis. The intent is to reduce the risk of osteoporosis-related fractures and help maintain quality of life for people with osteoporosis.
The set of guidelines comprise a practical tool for endocrinologists, physicians in general, regulatory bodies, health-related organizations, and interested laypersons regarding the diagnosis, evaluation and treatment of postmenopausal osteoporosis.
The first of a two-part series summarizing these guidelines, this post focuses on the Fracture Risk Assessment Tool (FRAX), high-risk versus very high-risk, and a review of the treatment algorithm. Part 2 will cover the newer drug romosozumab, switching therapies, and communicating risk.
The public health impact of postmenopausal osteoporosis
Osteoporosis is a major public health problem. The National Osteoporosis Foundation (NOF) estimates that over 10 million Americans have osteoporosis (PDF), with an additional 44 million having low bone mass. More than 2 million osteoporosis-related fractures occur in the U.S. every year, with more than 70% of them in women. Medicare currently pays for most of these costs; with an aging population, the cost of these fractures is estimated to be more than $25 billion by 2025. 
Despite these significant costs, fewer than 1 in 4 women aged 67 years or older with an osteoporosis-related fracture gets their bone density measured or begins osteoporosis treatment. A retrospective analysis has shown that the annual cost of caring for patients with osteoporotic fractures exceeds the annual costs of caring for breast cancer, myocardial infarction or stroke in women aged 55 years and older.
Emphasizing FRAX in osteoporosis treatment
One key update is an emphasis on the role of FRAX in the diagnosis of osteoporosis in patients with osteopenia. The 2020 guideline reiterates that FRAX is a valid diagnostic criteria. An increased risk of fracture based on a FRAX score can also be used to determine pharmacologic therapy (along with traditional factors such as low T-score or a fragility fracture).
The online FRAX calculation tool for U.S. patients is available here. I recommend that providers take a quick look at this, adjusting some of the risk factors to see how past fracture, family history, glucocorticoid use, rheumatoid arthritis diagnosis, age, BMI and the items listed below factor into the 10-year probability of fracture.
How to determine a patient's risk level for osteoporosis
Patients should be considered very-high-risk if they meet any of the following criteria:
A fracture within the past 12 months
Fractures while on approved osteoporosis therapy
Multiple fractures
Fractures while on drugs causing skeletal harm (such as long-term glucocorticoids)
T-score less than -3.0
High-risk of falls or history of injurious falls
Very-high fracture probability by FRAX (such as major osteoporosis fracture > 30% or hip fracture >4.5%) or other validated fracture risk algorithm
Patients diagnosed with osteoporosis but don't meet the criteria for very-high fracture risk should be considered "just" high-risk.
The value of a risk-based osteoporisis treatment algorithm
Determining whether a patient is high-risk versus very-high-risk is key in determining the initial choice of agents and duration of therapy.
For high-risk/no-prior-fracture patients, AACE/ACE 2020 postmenopausal osteoporosis treatment algorithm recommends either alendronate, denosumab, risedronate, or zoledronate with alternate therapy including ibandronate or raloxifene.
During the yearly reassessment for response to therapy and fracture risk, if the patient has increasing or stable bone mineral density (BMD) and no fractures we recommend consideration of a drug holiday after five years of oral or three years of IV bisphosphonate therapy. Therapy should resume when a fracture occurs, BMD declines beyond least significant change (LSC), bone turnover markers (BTM) rise to pretreatment values or patient meets initial treatment criteria.
If during the yearly reassessment there's a progression of bone loss or recurrent fractures, recommendations are to assess compliance and re-evaluate for causes of secondary osteoporosis and factors leading to suboptimal response to therapy. After that, switch to injectable antiresorptive if an oral agent or switch to abaloparatide, romosozumab or teriparatide if on injectable antiresorptive or at very-high-risk of fracture.
For very-high-risk/prior fracture patients, AACE/ACE recommends abaloparatide, denosumab, romosozumab, teriparatide or zoledronate. Alternate therapy is alendronate or risedronate. With all medications, reassess yearly for response to therapy and fracture risk.
If a patient is on denosumab, continue therapy until the patient is no longer high-risk and help ensure transition with another antiresorptive agent. If the patient is on romosozumab for one year, try sequential therapy with oral and injectable antiresorptive agents. For patients on abaloparatide or teriparatide for up to two years, try sequential therapy with oral or injectable antiresorptive agents. For a patient on zoledronate, if stable, continue therapy for six years. If progression of bone loss or recurrent fractures, consider switching to abaloparatide, teriparatide or romosozumab.
Shown below, the AACE/ACE algorithm treatment chart is also available online as a downloadable PDF.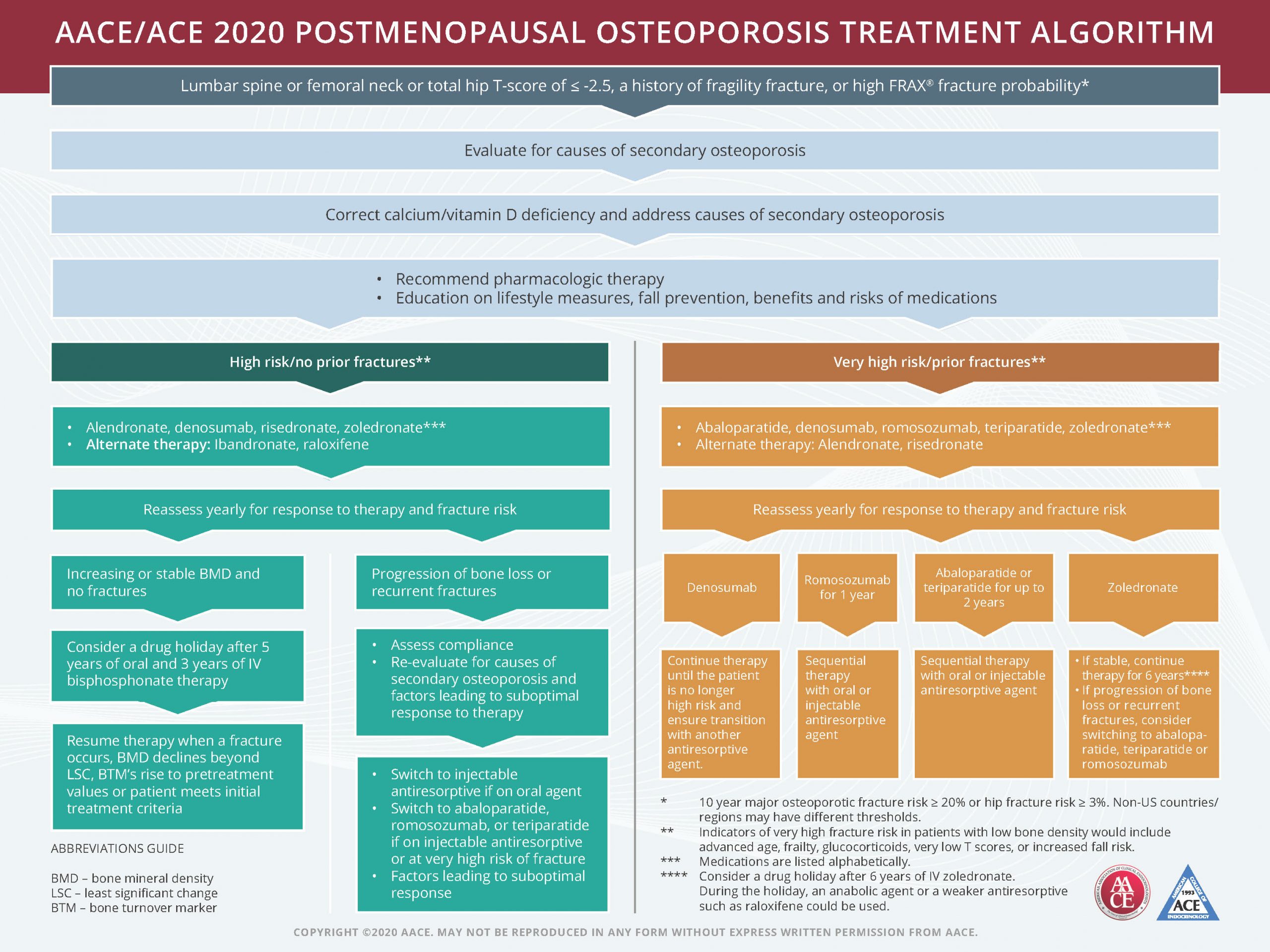 Understanding treatment guidelines fuels positive health outomces
Understanding and communicating the most-recent clinical guidelines helps us live out the RxLive value of clarity. Our skilled clinical pharmacists are committed to assisting provider partners as well as patients by educating them and advocating the most-appropriate treatment approach. If we can be of assistance to you as a provider at any time, please contact us.