Medication adherence is multidimensional, leading to many different theoretical frameworks and models when studying the subject and how best to improve it. This blog series will help show the many ways pharmacists are trained to identify medication adherence issues and how they're uniquely equipped to spend time with a patient to address these issues.
In the study "Matching Adherence Interventions to Patient Determinants Using the Theoretical Domains Framework" published late 2016 in Frontiers in Pharmacology, 16 articles were examined to extract 103 interventions and 42 determinants. After reading this and other studies, the RxLive team categorized the reasons for medication adherence into six major buckets — Cost, Side Effects, Skills, Understanding and Knowledge, Social and Behavioral factors, and Access to Care and Burden of Regimen.
In the RxLive technology platform, whenever a pharmacist identifies a potential medication adherence problem, they can click that reason in the drop-down to receive a suggestion about addressing that adherence issue. This adds to their own deep knowledge and experience as they address medication adherence issues with each patient.
Health literacy: Core to Understanding and Knowledge
Health literacy is a dominant factor in the understanding and knowledge bucket that negatively impacts medication adherence, especially when compounded with lack of illness or therapy knowledge and challenges managing across multiple providers.
Health literacy contributes to reduced medication adherence, and is described by The Institute of Medicine (IoM) as the ability of an individual to make appropriate health decisions according to the extent of their capacity to obtain, communicate, understand and use health information. Health literacy requires an assortment of skills — reading, listening, communication, comprehension, analytical and numeracy — to execute a medication regimen. According to the Centers for Disease Control and Prevention (CDC), some form of health literacy affects 9 out of 10 adults who struggle to understand complex or unfamiliar health information. The 2003 National Assessment of Adult Literacy (NAAL) Survey revealed that only 12% of U.S. adults have proficient health literacy.
Inadequate health literacy skills impede patients' ability to build knowledge about their illness and therapy, and creates challenges managing multiple providers involved in their care. Lack of illness knowledge and therapy can result in nonadherence, especially when symptoms aren't present, stemming from unawareness of disease progression or the consequences of deviating from the medication regimen as prescribed. The Archives of Internal Medicine (Arch Intern Med) reported there was a strong correlation between patients' health literacy with knowledge of their illness. Also, a lack of understanding of a therapy can influence patients' trust and use of a medication.
Causes of health literacy and its effect on medication adherence
Variations in health literacy stem from differences in education, English proficiency, socioeconomic status and situational circumstances. The NAAL survey identified lower health literacy in adults 65 years of age and older, those with less education, and those who are medically underserved or uninsured.
Despite a prevalence of low health literacy in certain patient populations or areas, health literacy is situational. Even those with proficient health literacy may not understand health information in certain circumstances, such as when they are sick, in pain or frightened. Or all of the above.
Health literacy is a barrier to realizing the health outcome intended from medication therapy. Annals of Internal Medicine published that those with low health literacy are less likely to understand medication labels and are more likely to take medications incorrectly. The U.S. Dept. of Education reveals that adults with the lowest health literacy, numeracy and literacy skills self-reported the worst health of those assessed in NAAL. Improving health literacy will have a positive effect on patient health outcomes and can potentially reduce annual healthcare expenses by over $25 billion.

How pharmacists can identify medication adherence due to health literacy
Identifying low health literacy allows pharmacists to employ strategies that enable patients to use medication the way it was intended. Low health literacy can affect anyone, so attempting to identify based on groups such as elderly or those on Medicaid or lacking insurance is not sufficient.
Pharmacists should observe patient red flags for signs of low health literacy:
Incompletely filled-out forms
Missing medication refills for chronic conditions
Medications are referred to by their shapes or colors
Avoidance of reading printed material when in front of a pharmacist for reasons such as forgetting glasses or that the materials will be read with a spouse or child
Mispronouncing words
Presence of numerous folded papers in pockets or purse, or requesting more materials
Lack of asking questions during the course of counseling
How pharmacists can improve medication adherence through health literacy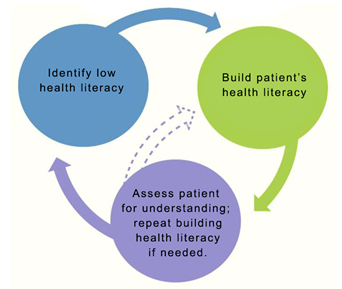 Development of medication adherence forms, hard copy or integrated into pharmacy software, is a mechanism to quickly fax or electronically send an alert to patients' healthcare providers that inadequate health literacy or lack of illness and medication therapy knowledge was identified. The low-time-consuming alert can open a channel of communication and collaboration between the pharmacist and healthcare provider to improve patient health literacy and medication adherence. (When RxLive partners with a practice, our clinical pharmacists send an easy-to-read provider takeaway document for them to review, uploaded directly into the practice's EHR after every patient consultation.)
Summary: Literacy a strong predictor of health
Health literacy is a strong predictor of health, and pharmacists are crucial to improving medication adherence in regards to this component of the Understanding and Knowledge bucket. Identification of inadequate health literacy is the initial opportunity to address medication adherence at the pharmacy level. We recommend creating a trusting, shame-free environment, employing EDGE tactics with teach-back, offering plain-language written materials, and collaborating with providers to help enable patients be adherent to their medication regimen by building their health literacy and illness and medication therapy knowledge.
Resources/references
Adult Literacy in America. National Center for Education Statistics
Closing the Loop: Physician Communication with Diabetic Patients Who Have Low Health Literacy. Arch Intern Med
Everyday Words for Public Health Communication. CDC
Facilitating Collaboration Between Pharmacists and Physicians Using an Interactive Interview Process. J Am Pharm Assoc
Health Literacy. Health Resources & Services Administration (HRSA)
Health Literacy: A Prescription to End Confusion. The Institute of Medicine
Health Literate Care Model. U.S. Department of Health and Human Services
Health Literacy: The Gap Between Physicians and Patients. Am Fam Physician
Improving Adherence Through Patient Health Literacy. Amerisource Bergen
Improving Health Literacy Could Prevent Nearly 1 Million Hospital Visits and Save Over $25 Billion a Year. United Health Group
Low Medication Knowledge and Adherence to Oral Chronic Medications among Patients Attending Community Pharmacies: A Cross-sectional Study in a Low-Income Country. BioMed Research International
Relationship Between Patients' Knowledge and Medication Adherence Among Patients with Hypertension. Patient Prefer Adherence
Relationship of Functional Health Literacy to Patients' Knowledge of Their Chronic Disease. Arch Intern Med
Shame and Health Literacy: The Unspoken Connection. Patient Educ Couns
Talking Points About Health Literacy. CDC
The Contribution of Health Literacy to Disparities in Self-rated Health Status and Preventative Health Behaviors in Older Adults. Annals of Internal Medicine
Use of a Modified Informed Consent Process among Vulnerable Patients: A Descriptive Study. J Gen Intern Med.